Mount Chiliad is the largest mountain in San Andreas, located directly south of San Fierro.
Mt. Chiliad - Satellite Location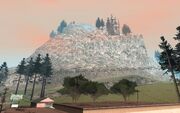 Dangers
Mount Chiliad's thin, winding roads are dangerous, and falling off in a car almost always results in the destruction of the car.
Bigfoot
Bigfoot is known to wander Mount Chiliad, and entering strange checkpoints may results in encounters with him, which have a 100% fatality rate.
Vehicles
Several vehicles are located at the base of Mount Chiliad, including pickup trucks and quads. On the top, there are several more vehicles.
Jumps and Stunts
There is one jump located at the top of Mount Chiliad, which sends the stunter right off the top, and usually, straight to the bottom.
There is also a small mountain bike track about halfway down the mountain, but there are no pedal bikes in CnR.
Ad blocker interference detected!
Wikia is a free-to-use site that makes money from advertising. We have a modified experience for viewers using ad blockers

Wikia is not accessible if you've made further modifications. Remove the custom ad blocker rule(s) and the page will load as expected.